We also welcome you to purchase from our Amazon store. Hope you can leave reviews of your experience with our products, and contact us via email or online chat with the screenshot of your review, then you will get pleasantly surprised!
Amazon top Seller Copy below code apply on Amazon
PRODUCT DESCRIPTION:
💦
Suitable for drainage holes with inner diameters of 34mm-35mm (1.33-1.38 inches)

💦

.
The pop-up design breaks the traditional and impractical drain pipes (such as base plugs with chains)!
Just gently press the top cover to switch between two modes-cap (filled with water) and filter (drain).
CHARACTERISTICS:
✨【BUILT-IN FILTER】
Unlike a regular drain button, this drain plug has an anti-clogging strainer inside that carefully collects hair and prevents the drain from clogging. Objects cannot enter the drain, such as jewelry, rings, dirt, etc.
✨【No WATER LEAK】
Thick, stepped silica gel gasket, no glue, oxidation resistant and leak proof.
✨【Sturdy basket stopper】
 One piece is seamless, the rubber ring around our integrated basket remains stable and will not tip over when the button is pressed, so you don't have to worry about sealing and flow.                                                                
✨
【High-quality solid material】
The sink drain is made of quality thick stainless steel, explosion-proof and crack-proof, with a durable, flat and comfortable to touch finish, resistant to rust, corrosion and tarnishing. The sink drain is equipped with a heavy brass nut and two thick silicone gaskets, ensuring its tightness and resistance to oxidation.
✨【Easy to install】
Anyone can install the pop-up drain thanks to its simple structure, no tools needed, just remove the old one and insert the bouncing core to complete it.
Material: Stainless steel, brass
Size:
PACKAGE INCLUDES:
1 x stainless steel rebound core push type
Product information  :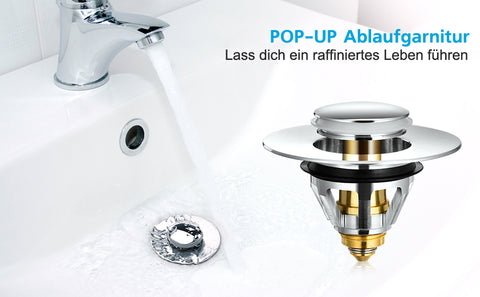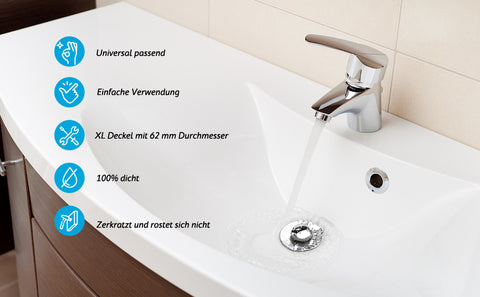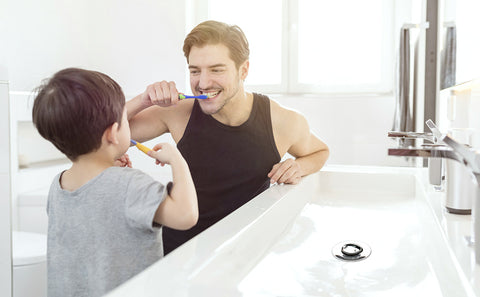 Note:We process orders between Monday and Friday. The order will be processed within 15 working days after the order is placed, and will be shipped the next day after the processing date. We do not ship on weekends.